It's the most wonderful time of the year… and I'm not talking the Andy Williams kind.
I LOVE the Oscars.
Everything about it! Joan Rivers, Wolfgang Puck, shiny bald gold men, long winded musically interrupted speeches, squinting celebrities trying to read teleprompters ABSOLUTELY everything about it I LOVE!
I love the Oscars and having people over to watch them SO much that I sought out the PERFECT TV Viewing/Food Serving table ever created in the history of tables.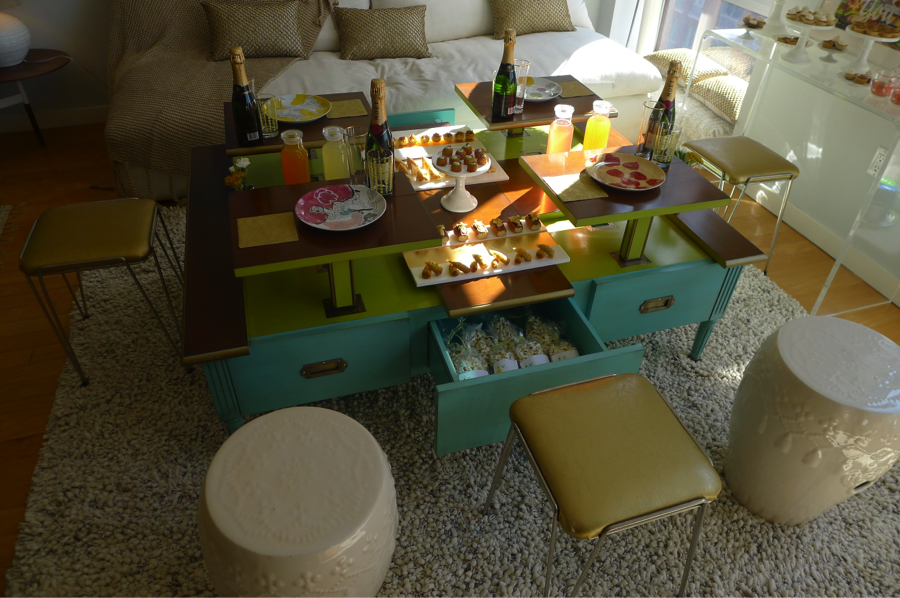 I even put candy and popcorn in the drawers for my pals to snack on while watching the show.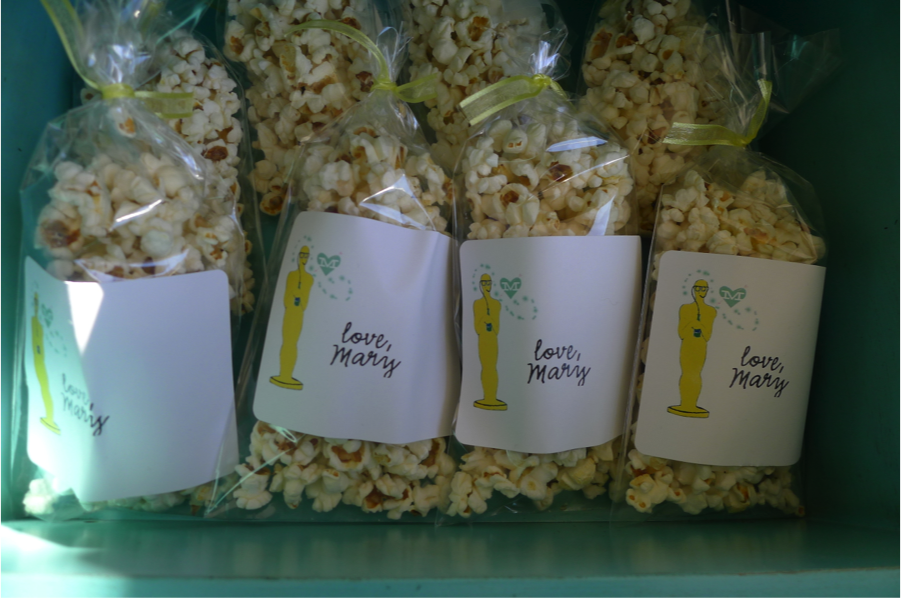 This year, I'm even more invested in making my party shine as fellow Georgetown Alum/Client Bradley Cooper and my favorite actor of ALL time Robert Deniro are both nominated for Silver Linings Playbook. So just as a Giants fan would root for their favorite team…I am gonna fly my Cooper/Deniro flag with pride Sunday night.
Silver Linings will serve as inspiration for my menu: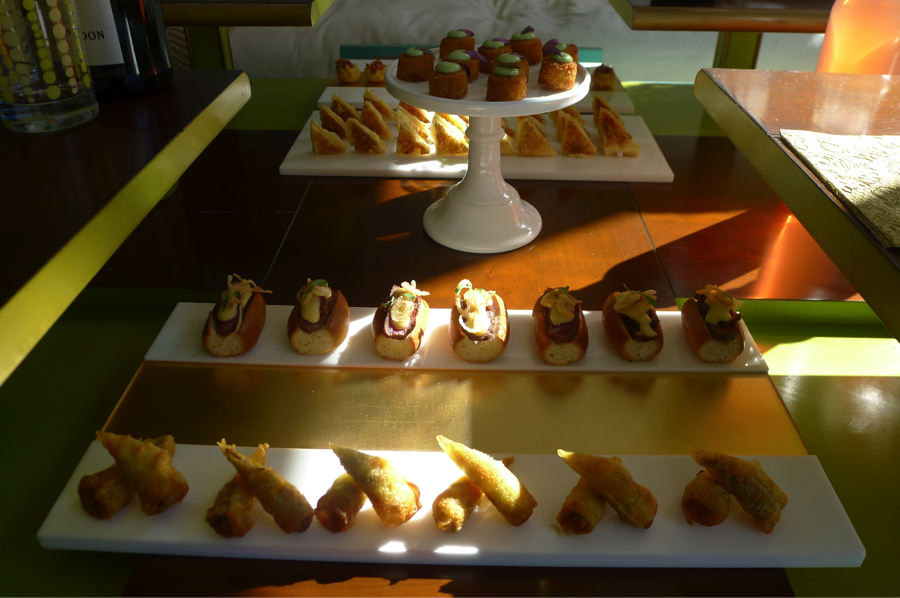 MINI PHILLY CHEESESTEAKS TWO WAYS
MINI CRAB CAKES WITH CHIVE REMOULADE
MINI GRILLED CHEESE WITH OTTO BLACK TRUFFLE HONEY
MAC & CHEESE CUPCAKES WITH BACON & CHIVES
RECIPES:
Mini Truffle Grilled Cheese with Otto Black Truffle Honey
2 slices soft white bread
2 teaspoons butter
1 slice of fontina
1 slice of munster
Directions
Heat a griddle on top of the stove over medium-high heat. Melt butter in griddle. Place the sandwich on the griddle and grill for about 1 minute on each side, or until the bread is golden brown and the cheese is melted. Slice the sandwich into 8 small serving pieces
Drizzle with Otto Black Truffle Honey and Serve
Mini Mac & Cheese Cupcakes
1 box of store bought Mac & Cheese Mix (any kind) or your homemade recipe
Make as directions indicate
Oil a Mini Muffin Pan
When Mac & Cheese mixture is complete add
1 Tablespoon of Hot Sauce
1/2 cup of shredded cheddar cheese
1/2 cup of shredded gruyere cheese to mac & cheese mixture
Scoop mac & cheese mixture into mini muffin pan and bake 15 minutes or until top is golden brown.
Top with crumbled bacon and chives.
Pigs in a blanket (just cause I never have a party without these guys)!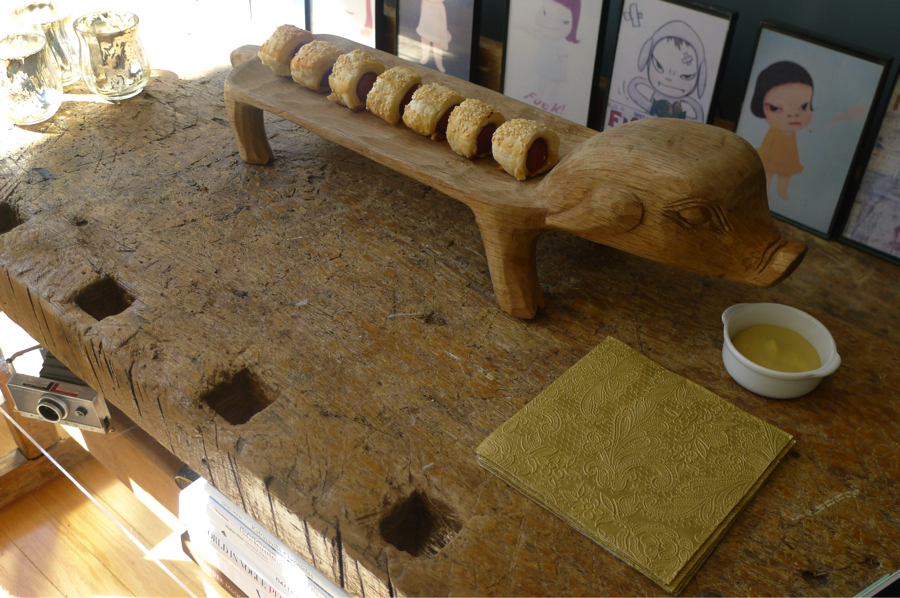 Dessert
For dessert? Why, a Life of Pi Stand of course.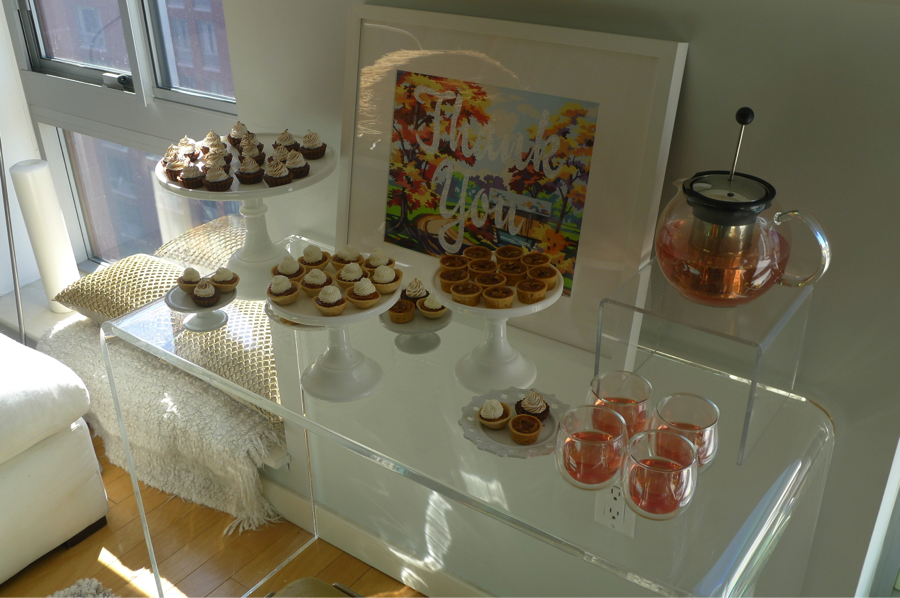 MINI PECAN PIE
MINI CHOCOLATE SMORES PIE
MINI BANANA TOFFEE PIES
Drinks
While I always served the official liquid of the Oscars: Moet & Chandon champagne. This year I'm going to let my guests play mixologist and pick the "Best Pitcher".
Will it be the…
The Argo Puck Yourself (Lemonade & Basil)
The Life of Pomegranate
Zero Dark Minted Grapefruit
Beasts of the Southern Peach
And my FAVORITE touch this year is provided by artist and pal Trey Speegle.
Look at this genius Paint (or Marker) by Numbers Oscar Ballot that will serve as my placemat this year!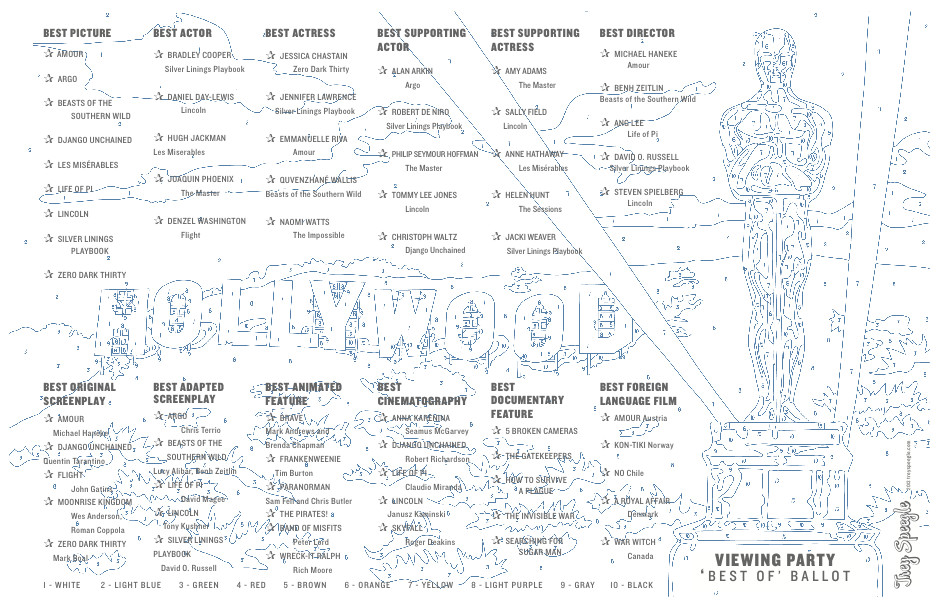 Feel free to download and use for your party too!!
And lastly, what kind of host would I be if I send my guests home unprepared for the next morning?
And the Oscar goes to: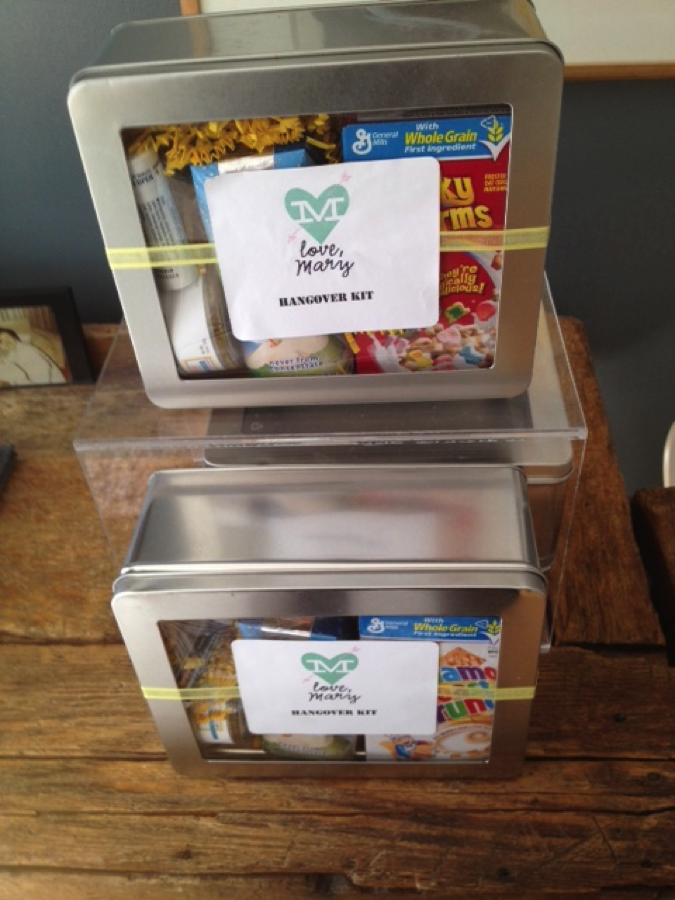 The Silver Linings Hangover Kit which includes a small box of cereal, coconut water, aspirin and recovery eye cream… ahhhhhh!
No matter how you celebrate Sunday, I hope you have a blast!
HAPPY OSCARS!
Love,
Mary

http://www.huffingtonpost.com/mary-giuliani/oscar-party_b_2729300.html